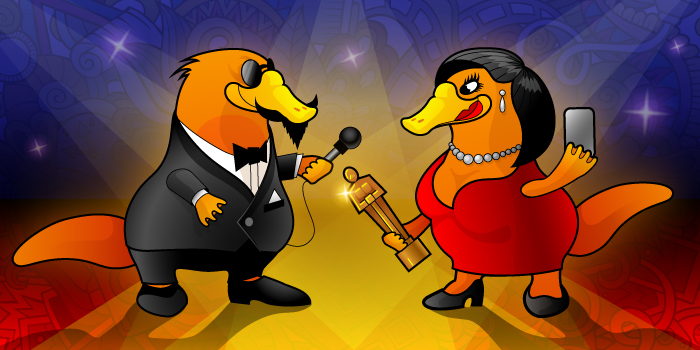 November 5, 2018
Options are great. Too many options, however, can be just as bad. When this happens, we tend to look to others to help us make our choices.
Movies have awards shows; so we can truly know which movies are worth our time and money. Unfortunately, if you're trying to choose an e-Learning authoring tool, there are no awards shows for you to look to. Until now!
To help you decide which e-Learning authoring tool best suits your purposes, we've weighed in on five different categories. Without further ado, welcome to the "2018 Authoring Tools Academy Awards!"
Winner: Best All Around Authoring Tool – Articulate 360
When you want something that you can start easily with but will grow as you do, Articulate 360 has got you covered. Articulate 360 is a bundle of several different software bundles: Storyline 360, Studio 360, Replay 360, Preso, and Peek. Because of the different software included in the bundle, you can choose which one best suits your abilities, and then change when your abilities change. Here's a run-down of the main offerings:
Articulate Studio 360 – Studio 360 is good for beginners. As an add-on for PowerPoint, many users will already be familiar with the interface. Studio 360 even allows users to import existing presentations, as well as add tests and interactive modules to them.
Articulate Rise – If you have any experience with basic web development, Articulate Rise will give you the ability to create web-based courses using web services.
Articulate Storyline 360 – If you have more experience or a more complicated requirement, this is a great option. While the interface is similar to PowerPoint, it offers more extensive tools for creating immersive learning experiences known as interactions.
Articulate also includes Quizmaker 360, which allows you to create assessments from one of 26 different quiz options, as well as Replay 360, for recording webinars and screencasts.
Articulate 360 is a relatively affordable solution that offers enough diversity to be able to handle your solution now and grow with you in the future.
If you only want the PowerPoint implementations, Articulate 360 can come with a lot of unnecessary features that could feel overwhelming and expensive. iSpring Suite 8.7 offers many of the same PowerPoint integrations, at a much lower cost.
Because iSpring Suite is a PowerPoint add-on, the interface is intuitive to anyone who has used PowerPoint before. The installation will yield a new tab on the toolbar and includes the iSpring QuizMaker. With the QuizMaker, you can create assessments from 23 types of questions.
iSpring also offers a simple way to port your class over to mobile devices. Once created, your class will work on most devices. You can also public in HTML5.
Winner: Best Video-Based Editor – Camtasia
If slides are too old school and video is more your style, Camtasia may be worth a look. Focused on video-based e-Learning, Camtasia is a simple interface that will have users creating video lectures within minutes of installing.
What sets Camtasia apart from classic video editors, though, is the ability to add test questions to the videos, with four types of questions. You can also add different effects to the videos, like pop-ups, tips, and cursors.
With no mobile option, Camtasia may seem like a limited tool. However, if your primary goals are video-based courses, Camtasia is a good choice.
Winner: Best Authoring Tool for Programmers – Lectora Inspire
As with many tools, the more powerful the tool, the more complicated it can be to use it. Lectora is one of these. Lectora is full of pre-built templates that are customizable. Using the development interface, users can make some tweaks; for others, they'll need to use the graphics package.
Lectora has a steep learning curve, but once understood, users will be able to turn out quality web-style content on it.
One possible downside of Lectora is that it is not responsive. It does output in responsive HTML5, but users will need to create the views themselves for each device. While this is more work, it means that users have complete control over how the courses will work on devices, so they can avoid possible surprises, when the course is viewed on small glass devices.
Because of the steep learning curve, Lectora is best for those with programming experience who can truly take advantage of the additional features.
Winner: Best Freemium Authoring Tool – Udutu
Sometimes, your needs are simple, and spending money on an e-Learning authoring tool is not needed. When this is the case, Udutu may be the tool for you. Offering PowerPoint conversion, storyboarding, and customizable templates, Udutu can be simple for beginners, or sophisticated for more advanced users.
While the functionality is rather basic, compared to purchasable tools, the fact that Udutu is free makes it pretty easy to overlook some of the flaws.
There are many factors you have to consider when choosing your e-Learning authoring tools. What type of classes are you trying to create? Are you porting over an existing PowerPoint presentation? Is your course video heavy?
Understanding your requirements and capabilities will make choosing the correct e-Learning software for your needs far simpler. Once you understand this and what the different tools offer, you can choose the option which best suits your needs. And, with the right tools, your e-Learning course is sure to deliver content both effectively and attractively to users.
5 Steps to Attract More Customers with Your LMS / Online Training Platform